Start Your Own Business
Is one of your dreams to start your own business? Staring a business is often exhilirating, sometimes exhausting, and is a dream many more people are realizing today. You can, too!
The articles on this page will help you explore opportunities and decide what business to start, and to avoid basic start-up mistakes.
The more time you spend on finding our what your passions, interests and abilities are, the more your business will be fun, exciting and profitable for you.
Choosing the Right Small Business, Part 1
Choosing a Small Business, Part 2
Choosing a Small Business, Part 3


Would you like to start your own business as a management consultant, web developer or boutique owner? Here are some great guides to get you started:

Click Here to Discover How to Become a Management Consultant

Click Here to Discover How to Become a Web Developer

Click Here to Discover How to Become a Boutique Owner



Find the Perfect Business eBook available
I have written an ebook with great information for choosing a business you'll love. If you are looking for a quick how-to guide for determining what small business would work for you, check out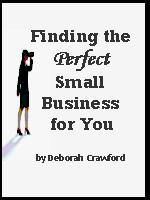 Includes 25 ideas for easy-to-start businesses that you can have up and running in no time.
If you are stuck just wondering what business would work best for you, try the easy exercises in this book to find out.
Plus, valuable information to help you avoid scams that take your money and leave you high-and-dry.
You'll also find a beginner's guide to networking. It's one of the best marketing techniques available for small and home-based businesses.
Also inside:
--great tips that will help you stay energized and focused on your success.
--internet business basics,
--information on setting up your business.


A very quick read that will have you excited and ready to get the ball rolling on your very own small or home-based business. You can download it immediatly, and it's a great bargain at only $2.95.

Click here to immediately download your copy of

Finding the Perfect Small Business for You today.