Hi,



In this issue:


--Start Your Own Business!
Do you dream of quitting your job and starting your own business? I have added a new section to the website to help you make that dream come true!

How do you choose a business?

How do you know what you're good at?

How do you find information on different businesses?

If you or someone you know is pondering the idea of starting a business, this information will help! Read more about Starting your own Business . . .


---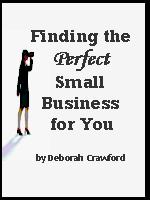 If you'd like to have your own business but don't know where to start, my new ebook can help. It will guide you through choosing a business that fits your life, and your interests.

You can get it by clicking on this link:
Finding the Perfect Small Business for You
Christmas is coming! Have you started holiday shopping? Here are some great pampering baskets and a coupon offer from Nightingale-Conant:

Relax and Pamper Gifts

Save $20 at www.nightingale.com on orders over $59.95. Use code: INTLSGC1
---

Marketing Questions? Email me
---

Thought for Today:

"You are never given a wish without also being given the power to make it true." --Richard Bach

Good Luck till next time, Deborah
Smart Marketing Works!
---