Hi,



I've been really busy lately, as I know everyone else has. The holidays are approaching and it seems to be extra-hectic right now. If you can spare some time to get outside and enjoy the weather (Fall is my favorite season!), it would be a "good thing"!

I recently read

The Martha Rules, and if you'd like to read my review, it's available here.

New Articles

--Marketing with your Business Cards:

Your business card can be a valuable marketing tool. Are you getting the most from yours? Read the article here. . .

--Manage your Energy to Maximize your Time

Running out of energy & out of time? Read how to get more done in this article

--Four Last Minute Ways to Increase your Sales Today!

Does your business need to make more money quickly? Read these tips for increasing your sales now.



---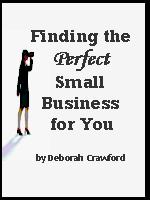 If you'd like to have your own business but don't know where to start, my new ebook can help. It will guide you through choosing a business that fits your life, and your interests.

You can get it by clicking on this link:
Finding the Perfect Small Business for You



---

Christmas is coming! Have you started holiday shopping? Here are some great pampering baskets and a coupon offer from Nightingale-Conant:

Relax and Pamper Gifts


Save $20 at www.nightingale.com on orders over $59.95. Use code: INTLSGC1
---

Marketing Questions? Email me
---

Thought for Today:

"Even if you're on the right track, you'll get run over if you just sit there." --Will Rogers

Good Luck till next time, Deborah
Smart Marketing Works!
---